Donna Kelce embraces Super Bowl history
Exhibits
Published on : 4/5/2023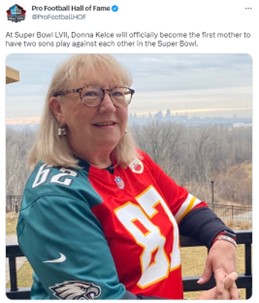 When the Kansas City Chiefs and Philadelphia Eagles advanced to Super Bowl LVII, there was a much deeper meaning to the game for Donna Kelce. With both Jason, of the Eagles, and Travis, of the Chiefs, facing off in the Super Bowl, Donna became the first mother with two sons playing against one another for the Vince Lombardi Trophy.

Donna chose to wear a jersey and sneakers that represented both the Chiefs and Eagles, at what many were calling the "Kelce Bowl." The jersey was split with Travis' red and gold No. 87 on the front and Jason's midnight green and white 62 on the back. Her sneakers also showed love for both of her sons' teams, with the right bolstering the Chiefs' colors and logos and the left covered in Eagles.

Donna made her intentions clear before the game on the Kelce brothers' podcast "New Heights": "I am going to be screaming the entire game for whoever has the ball."

The jersey and sneakers Donna Kelce wore to Super Bowl LVII have gone on display in the Pro Football Today Gallery at the Pro Football Hall of Fame in Canton, Ohio.

Both Travis and Jason signed the jersey after the Super Bowl, showing love for their mother.

Super Bowl LVII saw the Chiefs defeat the Eagles 38-35, as Travis claimed his second ring in the past four seasons. He finished with six receptions for 81 yards and a touchdown. Jason anchored the Eagles' offensive line that allowed only two sacks.