NFL Power Rankings Week 4: Chiefs stay on top
9/30/2020
Quarterback duels made Week 3 the highlight of the early NFL season.
Whether it was Patrick Mahomes versus Lamar Jackson, Drew Brees versus Aaron Rodgers, or Dak Prescott versus Russell Wilson, there was plenty to keep you glued to your television on Sunday and Monday.
Here are the official Power Rankings for Week 4 of the 2020 NFL season.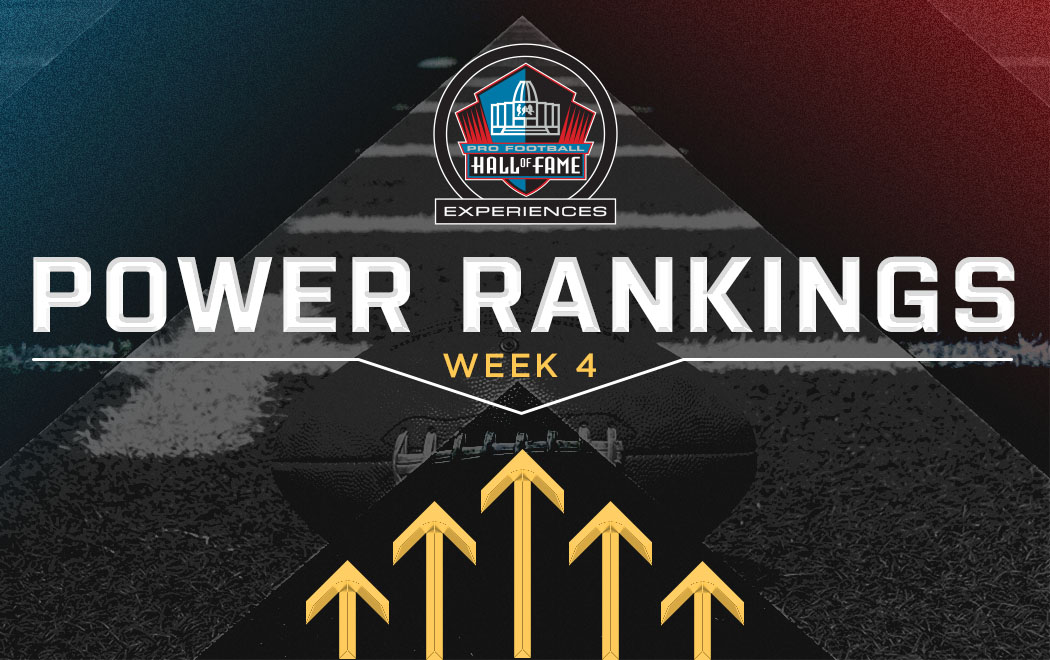 WEEK 4 POWER RANKINGS
1. KANSAS CITY CHIEFS (3-0)
LAST WEEK RANKING: 1
WEEK 4: VS. NEW ENGLAND PATRIOTS (2-1)
In a battle between the two most recent league MVPs on Monday night, Patrick Mahomes and the Kansas City Chiefs toppled Lamar Jackson and the Baltimore Ravens, 34-20.
Mahomes dominated another matchup with Jackson, throwing for 385 yards and four touchdowns on 31-for-42 passing.
Kansas City's defense stifled Jackson at both levels, holding him to 97 passing yards and 83 yards on the ground.
The victory extended the Chiefs' winning streak to 12 (including last season's Super Bowl run) while simultaneously ending the Ravens' 14-game regular-season winning streak.
2. SEATTLE SEAHAWKS (3-0)
LAST WEEK RANKING: 3
WEEK 4: @ MIAMI DOLPHINS (1-2)
Russell Wilson just keeps producing.
After a messy first half against the Dallas Cowboys on Sunday, Seattle made the adjustments in the second half to stay undefeated.
Wilson came out on top in the matchup with fellow NFC quarterback Dak Prescott, throwing for 315 yards and five touchdowns. Wilson lost a touchdown in the first quarter when D.K. Metcalf failed to protect the ball while trotting into the end zone, resulting in a touchback for Dallas.
Metcalf redeemed himself, scoring the winning 29-yard touchdown with under two minutes left to play.
If the Seahawks have a problem area early in the season, it's their scoring defense. Seattle is giving up an average of 28.7 points per game through three weeks, which ranks 22nd in the league.
3. GREEN BAY PACKERS (3-0)
LAST WEEK RANKING: 4
WEEK 4: VS. ATLANTA FALCONS (0-3)
Sunday Night Football at the Mercedes-Benz Superdome is a brutal assignment for an away team, but the lack of fans made it much easier for Aaron Rodgers and company.
While Rodgers and Drew Brees finished the game with similar numbers, it was Rodgers who led his side to victory, as the Packers trumped the Saints, 37-30.
Allen Lazard stole the headlines this week after torching the Saints' defense for 146 yards and a touchdown on six catches. Running back Aaron Jones put up a respectable 69 rushing yards, but it couldn't match his breakout performances from the first two weeks.
Green Bay still had its struggles, though, especially on a 52-yard touchdown run by Alvin Kamara that included multiple missed tackles.
Don't be surprised if you see these two sides meet again in the postseason.
4. BALTIMORE RAVENS (2-1)
LAST WEEK RANKING: 2
WEEK 4: @ WASHINGTON FOOTBALL TEAM (1-2)
Baltimore came up short Monday night in a matchup many see as an AFC Championship preview.
Jackson was outshined once again by Mahomes, making the reigning MVP winless in his three meetings with the Chiefs. The Baltimore offense couldn't keep up with the consistent production from Kansas City, amassing only 228 yards compared to 517 from the Chiefs.
But the experience is bound to shape Baltimore throughout the rest of the season, preparing the Ravens for a possible rematch against Kansas City deep into the postseason.
5. BUFFALO BILLS (3-0)
LAST WEEK RANKING: 5
WEEK 4: @ LAS VEGAS RAIDERS (2-1)
Another 28-3 disaster almost took place Sunday.
The Buffalo Bills were able to survive a comeback scare against the Los Angeles Rams after jumping out to a 28-3 lead.
Buffalo gave up 29 unanswered points and was forced to win the game on its final possession.
Taking the ball with less than five minutes to play and trailing by four, the Bills orchestrated an 11-play, 75-yard touchdown drive to take the lead with 15 seconds remaining on the clock.
While the Bills took the foot off the gas pedal in the second half, their offense still showed why it's one of the strongest in the AFC. Josh Allen finished with 311 passing yards and four touchdowns, and Cole Beasley caught six passes for 100 yards.
Previous
Next
Go back to all blog listings