5 Reasons to Attend the 2022 Super Bowl with HOF Experiences
10/12/2021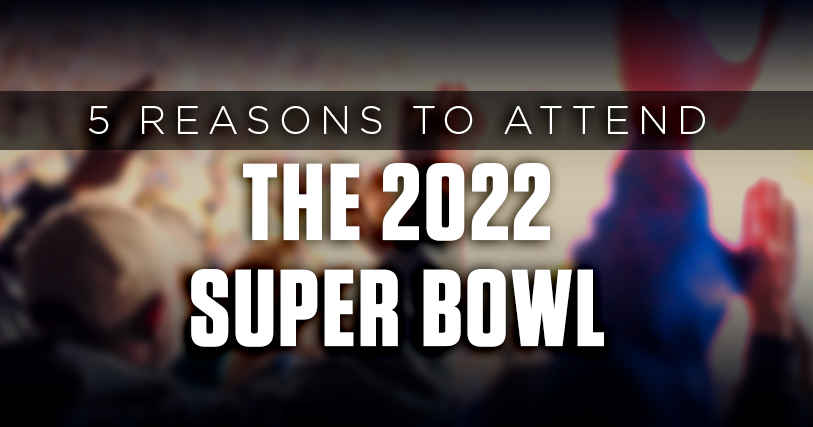 The 2022 Super Bowl is headed to Inglewood in Los Angeles this February. Looking to attend the most star-studded Super Bowl ever held?
We've broken down the five reasons why you should attend the 2022 Super Bowl with Hall of Fame Experiences.
1. FIRST SUPER BOWL AT SOFI STADIUM
The 2022 Super Bowl will mark the first but certainly not the final time that SoFi Stadium will host the final game of the NFL season.
Home to the Los Angeles Rams and Chargers, SoFi Stadium was opened in September 2020, instantly becoming one of the most impressive stadiums in the league's offering.
The Super Bowl kicks off a star-studded decade at SoFi Stadium. In 2023, the College Football Playoff National Championship will be held at SoFi Stadium as well as WWE's marquee annual event "WrestleMania".
Then in 2028, the opening and closing ceremonies and several events for the 2028 Summer Olympics will be held at SoFi Stadium.
2. RETURN OF THE GOLD JACKET CLUB
Ready for the biggest 2022 Super Bowl pre-game party?
The Gold Jacket Club is back at the 2022 Super Bowl and bigger than ever! This dynamic, three-hour hospitality party lets guests meet the gridiron's greatest heroes while indulging in gourmet food and premium open bar offerings.
Interactive experiences unique to Gold Jacket Club guests include Gold Jackets discussing their favorite career moments and much more.
3. EMMITT SMITH TO HOST THE GOLD JACKET CLUB
The 2022 Gold Jacket Club will be hosted by three-time Super Bowl champion and Pro Football Hall of Fame running back Emmitt Smith.
Smith joins a spectacular lineage of Gold Jacket Club hosts that includes Barry Sanders, Jerry Rice and sports media superstar Cari Champion.
As host, Smith will spend most of his time behind the mic interacting with fellow Gold Jackets and the audience in attendance.
4. MULTIPLE SEATING OPTIONS
Finding a seat at the biggest game of the season has never been easier.
2022 Super Bowl Ticket Packages are separated by colors (Red, Blue and White), which denotes the seating level at SoFi Stadium.
Lower level, corner, endzone and upper level seats are all available for purchase through a 2022 Super Bowl Ticket Package.
5. HOF EXPERIENCES MAKES IT EASY
Planning a trip to something as big as the Super Bowl is never simple. That's why HOF Experiences makes it as easy as possible for you to plan your week in Los Angeles County.
Every 2022 Super Bowl Ticket Package comes with the option to add hotel accommodations to your order, removing the headache of finding lodging during what will be the busiest week of the year in L.A.
If you book a hotel through us, we also provide ground transportation to the Gold Jacket Club and back from SoFi Stadium on Sunday.
SECURE YOUR 2022 SUPER BOWL TICKET PACKAGE TODAY
Interested in attending the 2022 Super Bowl? Click below to start your journey to SoFi Stadium for the biggest Super Bowl in history.
Previous
Next
Go back to all blog listings