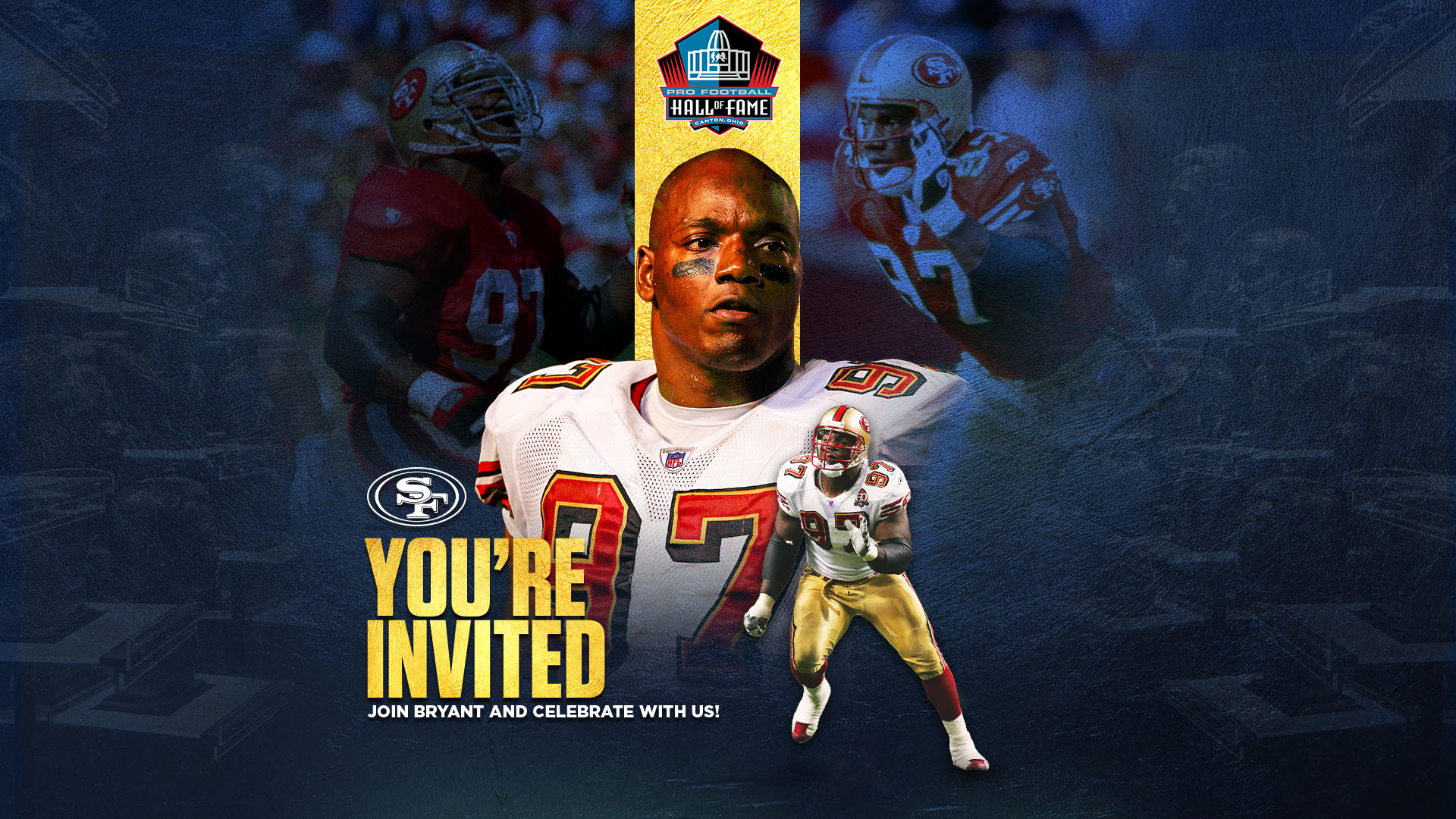 Be in Canton August 4-7, 2022 to celebrate Bryant Young's enshrinement into the
Pro Football Hall of Fame
Official Event Tickets
Below you will find all the information you need for all the events during Enshrinement Week Powered by Johnson Controls. The three main events are the Hall of Fame Game featuring the Jacksonville Jaguars vs. the Las Vegas Raiders (Aug. 4) the Enshrinees' Gold Jacket Dinner (Aug. 5) and the Class of 2022 Enshrinement (Aug. 6).
There are also a few things to note:
Parking
Parking is located at the Stark County Fair Grounds for $20 per vehicle and $3 roundtrip per person to ride the shuttle. The Stark County Fair Grounds is located at 305 Wertz Ave NW, Canton, OH 44708.

Ubers and Lyfts will also be available to bring you onto HOF Campus.
Experience Football's Greatest Weekend
Event Name
Date
Description
Gameday Tailgate Party
Thursday, August 4
4 PM
Kick off the 2022 NFL season with the ultimate fan tailgate party. Enjoy an unrivaled spread of food, desserts, soft drinks and a full bar.
Hall of Fame Game - Jacksonville Jaguars vs Las Vegas Raiders
Thursday, August 4
8 PM
Unlike other NFL games, the Hall of Fame game is played at Tom Benson Hall of Fame Stadium, a state-of-the-art, NFL-quality stadium right here in Canton, Ohio.
Fashion Show & Luncheon
Friday, August 5
11 AM
One of Enshrinement weeks inaugural events, it is arguably the largest and finest fashion shows in Ohio with nearly 3,000 guests. Showcasing a variety of fashion, including men, women, and children's clothes from local and national stores.
Enshrinees' Gold Jacket Dinner
Friday, August 5
5 PM
One of the most iconic events of the weekend, this black tie event will begin with cocktails, followed by a sit down dinner and end with the Class of 2022 being welcomed to Canton by thousands of guests and over 100 Returning Hall of Famers.
The Repository Grand Parade
Saturday, August 6
8 AM
Nearly 200,000 spectators will join us in Downtown Canton, where the NFL was founded, to welcome members of the Class of 2022 and many returning Hall of Famers, specialty units, giant balloon, fabulous floats, and marching bands that will dazzle the crowd. Bleacher seating is available to purchase.
Enshrinement 2022 Celebration Fan Party
Saturday, August 6
9 AM
Kicking off just prior to the Class of 2022 Enshrinement Ceremony. Your ticket gets you an amazing array of food, desserts and an open bar.
Class of 2022 Enshrinement
Saturday, August 6
12 PM
The focus of the entire weekend celebration is the emotional and eventful Enshrinement Ceremony where the newest Hall of Fame members will assume their rightful place among pro football's elite.
Concert for Legends
Saturday, August 6
8 PM
Internationally acclaimed rock band Journey will headline the 2022 Concert for Legends Presented by Ford at Tom Benson Hall of Fame Stadium.

Purchase Concert Tickets
Enshrinees' Roundtable
Sunday, August 7
12 PM
A truly one-of-a-kind event that offers unscripted, up-close-and-personal format where the Class of 2022 Enshrinees share stories and memories of their careers.
Ticket Purchase Instructions
Enter the offer code YOUNGFF in the box and hit SUBMIT
Select your event
Select the number of seats you wish to purchase and hit ADD TO CART
If this is your first time, you will be asked to create an account. You can do this by clicking the red SIGN-UP button
Once your account is created, you will proceed to the payment page.
If you wish to purchase additional events, click the red CONTINUE SHOPPING button.
You will be taken back to the offer code page. Re-enter your offer code, hit SUBMIT and select your next event. Repeat as necessary.
When you are ready to check out, hit the blue PLACE ORDER button
Purchase Tickets


Purchase Event Tickets
Deadline to Purchase: Tuesday, July 1, 2022
Book Your Hotel


Book Your Hotel
To make a hotel reservation, click the button below. Individual hotel stays do not include transportation.