5 Moments that Define Peyton Manning's Hall of Fame Career
5/5/2021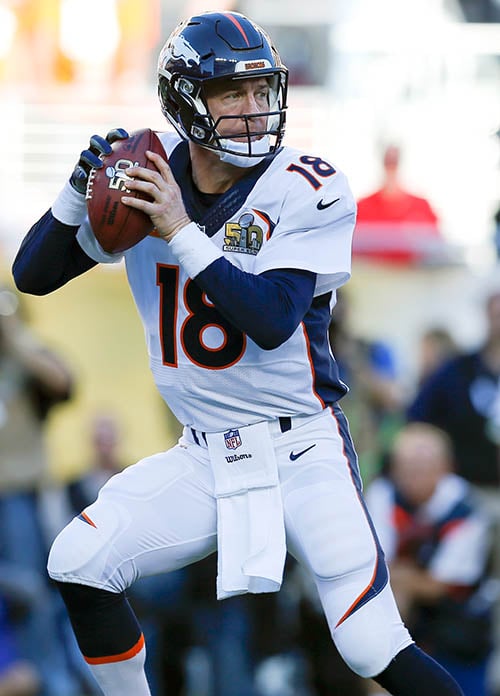 Peyton Manning's career is defined by hundreds of moments and accolades that helped him become one of the most decorated passers in the game's history.
Before Manning enters the Pro Football Hall of Fame's Class of 2021, we've selected the five moments that best tell the story of his journey to Canton.
5. HISTORIC MONDAY NIGHT FOOTBALL COMEBACK
WHEN: OCTOBER 6, 2003
FINAL SCORE: INDIANAPOLIS COLTS 38, TAMPA BAY BUCCANEERS 35
With four minutes remaining in a "Monday Night Football" meeting with Tampa Bay, Indianapolis trailed, 35-14.
What came next was a historic comeback.
Manning had thrown a pick-six to Bucs cornerback Ronde Barber with five minutes left in regulation, putting Tampa Bay up by three scores. But Manning redeemed himself with three consecutive touchdown drives with the clock slowly ticking down.
On the final scoring drive, Manning connected with Marvin Harrison for a 52-yard completion to put the Colts in the red zone. Two Ricky Antwan Williams rushes followed, tying the game at 35 with 35 seconds remaining.
The Colts claimed victory in overtime, 38-35, as Manning finishing the game with 386 yards and two touchdowns on 34-for-47 passing.
4. TIES SINGLE-GAME TOUCHDOWN RECORD
WHEN: SEPTEMBER 5, 2013
FINAL SCORE: DENVER BRONCOS 49, BALTIMORE RAVENS 27
Record books are filled with Manning's name, but one of his most talked-about achievements came in a single game.
Manning opened the 2013 season with an all-time showing against the Baltimore Ravens, throwing for 462 yards and seven touchdowns on 27-for-42 passing in a 49-27 victory.
He was the sixth quarterback to throw for seven touchdowns in a game. Since then, Drew Brees and Nick Foles also have tied the record.
3. BREAKS SINGLE-SEASON TOUCHDOWN RECORD
WHEN: DECEMBER 22, 2013
FINAL SCORE: DENVER BRONCOS 37, HOUSTON TEXANS 13
Manning didn't slow down after his record-setting Week 1 performance against Baltimore in 2013.
In a Week 16 meeting with the Houston Texans, he threw for 400 yards and four touchdowns. The fourth touchdown – a pass to Julius Thomas for a 25-yard touchdown with less than five minutes remaining – was Manning's 51st of the season, an NFL record.
He finished the 2013 campaign with 55 passing touchdowns, which remains the record.
2. FIRST PLAYOFF VICTORY
WHEN: JANUARY 4, 2004
FINAL SCORE: INDIANAPOLIS COLTS 41, DENVER BRONCOS 10
By 2003, Manning was no stranger to the playoffs, but his first postseason win still alluded him.
Manning lost his first three playoff games as a Colt, making a 2003 AFC Divisional Round meeting with the Denver Broncos important to the trajectory of his career.
Following his first MVP award, Manning was due for some postseason success and made sure it wouldn't evade him again. He eviscerated the Broncos with 377 passing yards and five touchdowns, producing a perfect passer rating and leading the Colts to the 41-10 victory.
While the season didn't end in with a Super Bowl win, Manning got one monkey off his back and moved toward the eventual championship rings and records in his future.
1. LEADING THE COLTS TO A SUPER BOWL
WHEN: JANUARY 21, 2007
FINAL SCORE: INDIANAPOLIS COLTS 38, NEW ENGLAND PATRIOTS 34
Few things define Manning's career like his rivalry with Tom Brady.
It was this rivalry that produced one of the greatest performances of Manning's career.
Coming into the AFC Championship Game following the 2006 regular season, Manning was 3-6 in his postseason career, while Brady and the Patriots had won three Super Bowls since the start of the century.
The game began with shades of the Tampa Bay matchup from earlier on our list, with a Manning pick-six giving the Patriots a 21-3 lead early. But Manning wouldn't let his past failures derail him as he led Indianapolis back to claim an eventual 38-34 lead to advance to Super Bowl XLI.
Manning finished the game with 349 passing yards, a passing touchdown and a rare rushing touchdown.
The Colts would go on to defeat the Bears, 29-17, to claim Manning's first Lombardi Trophy.
Attend Manning's Enshrinement This Summer
Official Ticket Packages for 2021 Enshrinement Week Powered by Johnson Controls are on sale now and included Enshrinement Ceremony access, exclusive parties, interactive experiences and much more.
Class of 2021 Enshrinement - Single Event Tickets
Limited single event tickets remain for the Class of 2021 Enshrinement (8/8/21). Pricing starts at $29.
2021 ENSHRINEMENT SINGLE EVENT TICKETS
Previous
Next
Go back to all blog listings