NFL Power Rankings Week 2: First Week Impressions
9/16/2020
Week 1 of the 2020 NFL Season looked different from anything we've seen before.
Whether it was the seas of empty stadium seats or longtime franchise legends donning new threads for the first time, there was plenty to keep our attention as football returned to our lives last weekend.
Here are the official Power Rankings for Week 2 of the 2020 NFL season.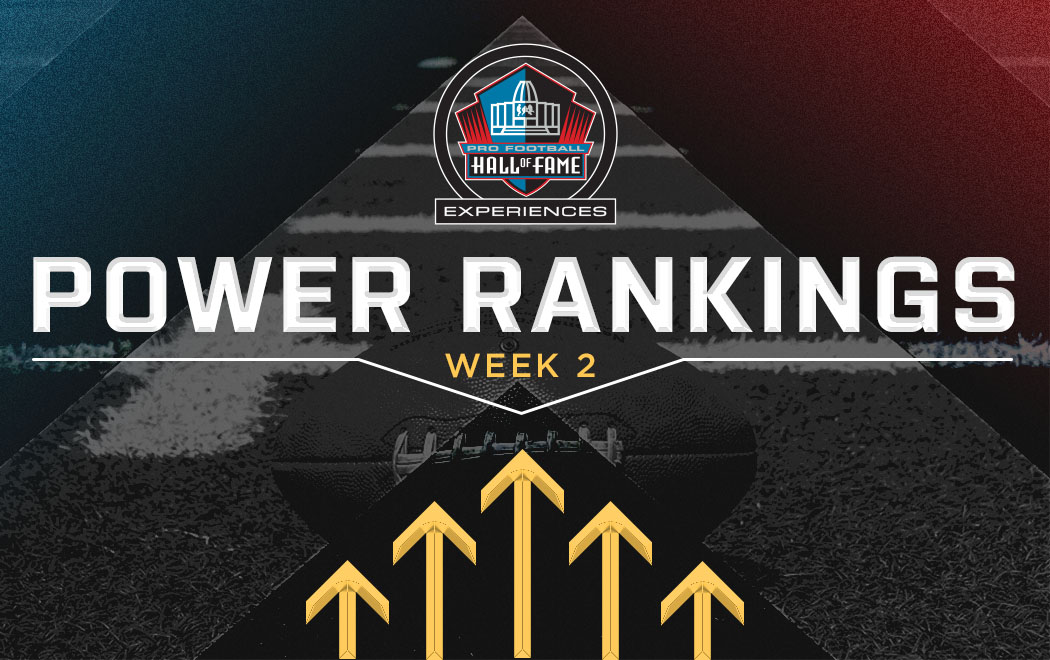 WEEK 2 POWER RANKINGS
1. KANSAS CITY CHIEFS (1-0)
LAST WEEK RANKING: 1
WEEK 2: @ LOS ANGELES CHARGERS (1-0)
The Kansas City Chiefs' first game of their Super Bowl defense campaign went according to plan. Kansas City defeated Houston, 34-20, on Thursday night in front of a limited capacity of fans at Arrowhead Stadium.
Super Bowl MVP Patrick Mahomes hit his stride after a few possessions, finishing the game with 211 passing yards and three touchdowns to lead his side to victory.
More impressive was the performance of rookie running back Clyde Edwards-Helaire, who the Chiefs selected with the 32nd pick in the 2020 NFL Draft. The LSU-bred tailback rushed for 138 yards and one touchdown, adding a new dimension to an already terrifying Kansas City offensive arsenal.
2. BALTIMORE RAVENS (1-0)
LAST WEEK RANKING: 2
WEEK 2: @ HOUSTON TEXANS (0-1)
The Ravens picked up where they left off from their 14-2 regular season last year, thrashing the Cleveland Browns, 38-6, in Week 1.
Reigning MVP Lamar Jackson looked crisp even without any preseason games, throwing for 275 yards and three touchdowns on 20-for-25 passing. Jackson didn't torch the Browns on the ground, but still led all Ravens rushers with 45 yards.
Baltimore's defense came out of the gates strong, holding Cleveland quarterback Baker Mayfield to 189 passing yards and one interception on 21-for-39 passing. The front seven also got to Mayfield in the backfield twice.
3. NEW ORLEANS SAINTS (1-0)
LAST WEEK RANKING: 4
WEEK 2: @ LAS VEGAS RAIDERS (1-0)
The New Orleans Saints started the season with the most high-profile game of Week 1.
The debut of Tom Brady with the Tampa Bay Buccaneers was already must-watch television but pitting him against Drew Brees at the Superdome took it to another level.
Brees played well in the historic matchup, throwing for two touchdowns and not turning the ball over, but it was the Saints defense that stole the show.
New Orleans picked Brady off twice in its 34-23 win, including a 36-yard interception return touchdown by Janoris Jenkins in the third quarter.
The Saints also had one of the highlights of the weekend with the Taysom Hill double pass to Alvin Kamara for 38-yards late in the fourth quarter.
4. SEATTLE SEAHAWKS (1-0)
LAST WEEK RANKING: NR
WEEK 2: VS. NEW ENGLAND PATRIOTS (1-0)
The Seattle Seahawks let Russell Wilson free in Week 1 and the returns were monumental.
Wilson dazzled in Seattle's season-opening 38-25 win over Atlanta, throwing for 322 yards and four touchdowns in 31-for-35 passing. Nine different players caught a pass from Wilson in the win, pushing forward Seattle's new playstyle.
D.K. Metcalf and Tyler Lockett were the favorite targets of the day, going for 95 and 92 yards through the air, respectively.
5. BUFFALO BILLS (1-0)
LAST WEEK RANKING: NR
WEEK 2: @ MIAMI DOLPHINS (0-1)
The Buffalo Bills are the early-season favorite to win the AFC East and for good reason.
Head coach Sean McDermott and his team got off to a hot start on Sunday, trouncing the New York Jets, 27-17.
Buffalo displayed its full faith in Josh Allen, letting the third-year quarterback throw 46 times in the win. Allen completed 33 of his passes for 312 yards and two touchdowns in the win. He also was the Bills leading rusher, taking the ball on his own 14 times for 57 yards and one score.
Allen looked pleased with his new top target Stefon Diggs, who the Bills traded the Vikings for back in March. Diggs caught eight passes for 86 yards in his first game for Buffalo.
Previous
Next
Go back to all blog listings