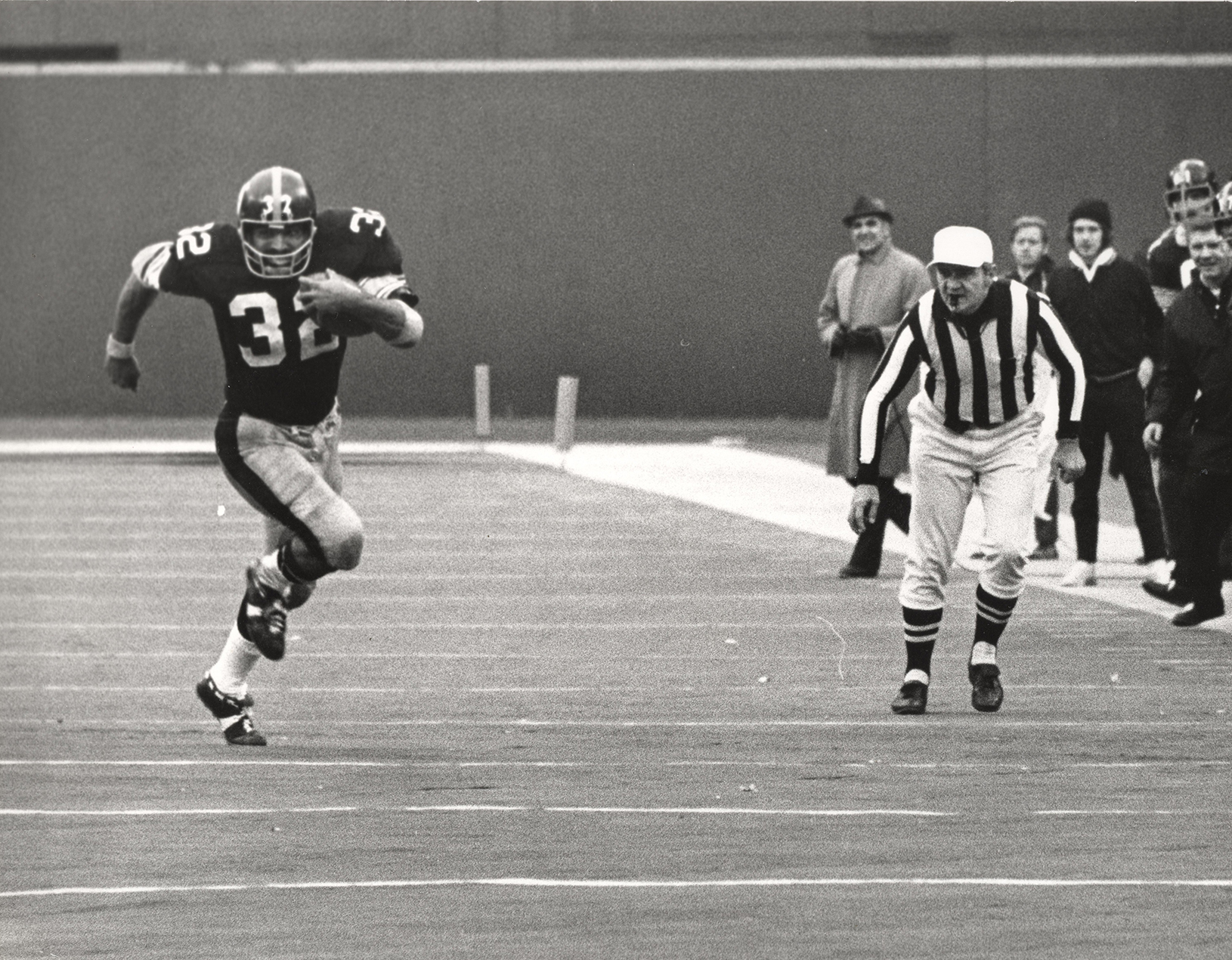 In 1972, the Pittsburgh Steelers completed their 40th season by advancing to the playoffs for only the second time. Their first postseason appearance had been brief (a 21-0 loss to Philadelphia in 1947), and these Steelers seemed headed for a similar fate.
With 22 seconds left in an AFC Divisional Playoff Game at Three Rivers Stadium, the Steelers trailed the Oakland Raiders 7-6 and faced fourth-and-10 from their own 40-yard line. ART ROONEY, the club's owner and founder, headed down the elevator to the locker room to console his team, thereby missing one of the wackiest plays and one of the most fantastic finishes in NFL history.

Pittsburgh quarterback TERRY BRADSHAW dropped back to pass, but the Raiders flushed him out of the pocket to the right. He saw running back John (Frenchy) Fuqua over the middle at the Raiders' 35, and with defenders closing, Bradshaw fired a pass toward Fuqua.

Fuqua, Raiders safety Jack Tatum and the ball converged simultaneously, and the ball popped out. The Raiders began to celebrate, not realizing that rookie running back FRANCO HARRIS, trailing the play at the Raiders' 42, had picked the ball out of the air at his shoe tops and taken off down the left sideline. Some Raiders gave chase, but they could not stop Harris from running to the end zone for the victory.
The "Immaculate Reception" set the Pittsburgh Steelers on course for a championship binge.


CATCH OF A LIFETIME
Fifty years have passed since Pittsburgh Steelers running back Franco Harris snagged the "Immaculate Reception" to propel his team to a 1972 AFC playoff victory. To mark the anniversary, we take you through the play that set the Steelers on course for a championship binge for the ages.
---
HALL OF FAMERS WHO WERE THERE
STEELERS